CHUNO 75%
6,30€
Our journey to Nicaragua, for a fruity and sweet cocoa, with aromatic notes of nuts and olives.
60g bar
Description
Fava is very aromatic and acidic by nature, which is why the roasting process is more aggressive (higher temperature for more minutes) and the refining process is also longer, so that the aromatic profile develops while allowing the acidity generated by the fava during fermentation to evaporate, which would damage the final product. The result is a citrusy and slightly spicy profile, full-bodied but not too much, tending towards sweetness.
An award-winning bar: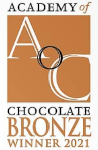 Processing
Roasting: decisive and prolonged
Refining: stone, long life
Tempering: by hand
Maturation: 12-15°C, in the darkness
Nutritional information
Dark chocolate.
Ingredients: cocoa beans, brown sugar, cocoa butter. Cocoa min. 75%. May contain traces of nuts, cereals containing gluten
Energy 2196kj/524kcal | Fat 39g | of which saturated 20g | Carbs 34g | of which sugars 26g | Protein 9.5g | Salt 0.02