JEMBRANA 76%
6,30€
Our journey to Bali, for a deep and sweet cocoa, with notes of cherry jam, wild honey, and sandalwood.
60g bar
Description
Jembrana bean
Indonesian bean, balanced and sweet. Fermentation is on wooden boards and leaves. Roasting is done with a very light process, at low temperature for a medium duration. The result is balanced, with a prevalence of sweetness, hints of cherries and sandalwood.
Cocoa butter improves its texture and allows for greater smoothness, enveloping the entire palate. Refining on stone for at least 24 hours allows for a complete aromatic development.
We are pleased to announce this award: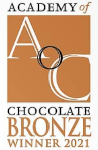 Processing
Roasting: delicate, medium duration
Refining: stone, medium duration
Tempering: by hand
Aging: 12-15°C, in the darkness
Nutritional information
Dark chocolate.
Ingredients: cocoa beans, cane sugar, cocoa butter. Cocoa min. 76%. May contain traces of nuts, gluten-containing cereals.
Energy 2211kJ/527kcal | Fat 43g | of which saturates 20g | Carbohydrates 33g | of which sugars 25g | Protein 9.5g | Salt 0.02g.