Contact Us
We disable our online shop in the summer, to preserve chocolate and be sure that the quality of your order is not damage from hot temperature. For any info, contact us!
Sincera
12,90€
Our spreadable born from the encounter between Piedmont Hazelnuts, the best in the world, and the chocolate we produce starting from the best beans in the Jembrana region, Bali.
180g jar
Description
Cream with 53% Piedmont Hazelnuts, cane sugar, LIM Jembrana chocolate 76% (cocoa beans, cane sugar, cocoa butter), Jembrana cocoa beans nibs. The cream is firm at temperatures below 18-20°C, it is velvety and releases an intense hazelnut aroma, in contrast with the crunchiness and slight bitterness of the toasted beans.
This excellent cream has won an award: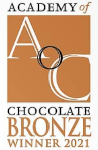 Storage
Ideal storage temperature: 18°C, in the darkness.
An eventual fat separation is to be considered normal as there are no emulsifiers present, and it does not affect the quality of the product. Once opened, store in the refrigerator.
Nutritional Information
Energy 2350kj/561kcal | Fat 42g | of which saturates 6g | Carbohydrates 36g | of which sugars 34g | Protein 9.5g | Salt 0.03g